We recently completed our design and installation of the remodeled golf shop at Lone Tree Hotel and Golf Club in Lone Tree, Colorado.
What made this project even more rewarding was that is was the third project we completed for South Suburban Parks and Recreation Department (SSPRD) over the past five years.  Repeat clients, like SSPRD offer us positive insight that we are during our job correctly, both in functional design and pricing – all phases of the project are verified and checked in an open bid marketplace.  Knowing we can secure and execute out-of- state municipal projects remains important to our future. We know we can offer guidance and expertise when awarded and given the ability to do so.
The Lone Tree project started out as many do – through knowledge of a past project and their need for a new service counter and some floor fixtures – that is where the discussions began.  These conversations started well over a year ago, and were primarily focused around a "quick fix" for the shop. Through our initial meetings with Bill Ramsey (PGA Director of Golf) and Kristen Benson (Merchandiser Coordinator), we explored if this was the best course of action moving forward.  Limited funding would available during the first year, yet if the project was delayed, they might be able to secure additional funds with a more expanded project scope. So, rather than rushing into a quick supplement of fixtures, we recommended a more thorough design review of the space. After many decades of use without change, it was time to thoroughly explore project goals and the opportunities.  Over the following months we conducted further merchandising and operational meetings to clearly understand the project, its clientele and needs. We held site reviews with staff and gathered both existing field dimensions, product inventory and a list of existing fixturing (if any were to be reused). With this information we presented two Design Plans. One plan designing a new Golf Shop space within the current budget parameters and second with an expanded scope if additional funds were approved.
When it came time to remodel our 35 year old golf shop there was no question we were going to work with Sterling Grey. We had recently completed a remodel at one of our other courses and the professionalism and quality of work we received exceeded our expectations. When it came time to upgrade the Lone Tree Golf Shop, we knew we could count on Sterling Grey to provide expertise to deliver a finished project that not only fit within our budget, but completely revitalized the space and improved our merchandising abilities. From schematic design to completion, Sterling Grey worked with us every step of the way to insure the finished project was functional and met the needs of our facility. Thanks, great job!

Bill Ramsey, PGA Director of Golf
South Suburban Parks and Recreation
Lone Tree Golf Club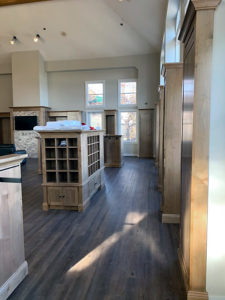 Both of these options were outlined in a biddable set of architectural documents and specifications released to the public for open bid, where we were awarded the cabinetry, millwork and fixture portion.  We worked alongside a local contractor, who handled the demolition, build-out and finishes for the new space. All electrical, data and dimensional needs for the new cabinetry and fixtures were relayed to the contractor via architectural documents.  The process was as seamless as if we handle the site construction work ourselves. Additionally, we were able to gain another local colleague in the Denver area, which we can only hope to work alongside again.
Overall, we were very pleased with the outcome and look forward to future projects with SSPRD!