In recent years the trend continues to push retail from traditional "brick and mortar" spaces to online shopping, or in the case of our past client Grasshopper Goods into mobile boutiques.
Grasshopper Goods were Wisconsin's first mobile boutique and after three years continue to explore and reverse from traditional trends when they embarked on building a new shop in Stoughton, Wisconsin after their huge mobile success.
When we received their call, regarding assisting with the project, we were more than excited to offer of expertise and guidance. With years of knowledge in small to midsize resort and boutique retail we were methodically able to collaborate and expand upon their needs and goals. For the new shop, with their brand, clientele and product lines already established from their mobile facility, the wanted a natural extension that their customers would be accustomed to. The look, feel and design in the new store, wanted to be similar to the truck, yet what changed was the ability to display product vertically and in a much, much larger space. The new store in historic Stoughton was chosen for it's close proximity to Madison, yet in a town that embraces and supports it local downtown business. As Karen Tardrew, Owner of Grasshopper Goods, remarked the support of the town and the open arms atmosphere of the other businesses is truly incredible. She is proud to be in the community and knows, when presented with several opportunities to locate Grasshopper Goods, that she made the absolute best
choice in Stoughton.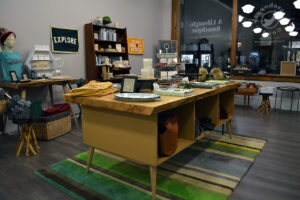 Understanding that the new retail space would be a project in development needing to grow with time and funding, we worked together to create a phased design approach that could be expanded over time. The key components to begin with were a service counter (the heart and soul of any shop) and several large signature display tables. All these items were designed with function in mind yet were also created to be statement artisan pieces; to evoke style and emotion. We followed earlier design from the mobile boutique "Vinny", and used reclaimed live edge slabs, along with clean lined postmodern detailing. The simplicity of the postmodern style allowed the thick wood table slabs to make the statement and show their full character. We were able to source several American Ash tree slabs that date back well over 75 years – The largest of these were from a tree with over a 42" diameter trunk. It is unbelievable to think the history this tree has been through. While milling one of the tabletops flat, our craftsman uncovered a lead bullet that had been embedded for years. "A bad shot during deer season or just target practice?" we will never know, but the history is there.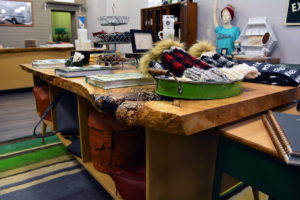 Our cabinetry and tables, alongside sourced furniture, creates an eclectic earthy design that along with the artisan merchant merchandise becomes Grasshopper Goods. The warmth of the lighter Ash finishes; hints of grasshopper signature green, along with the friendly and knowledgeable staff create a truly wonderful shopping experience.
Our phased plan was designed to create areas for larger perimeter cabinetry in the future. These will allow their shop merchandisers to fully take advantage of the perimeter wall height. Establishing several vertical layers and category hierarchy of merchandise presentations. We are looking forward to their continued accolades and success in their new space and will be ready for the next phase.